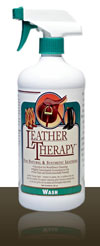 H Leffler & Son Leather Therapy Wash
---
---
Leather Therapy Wash
Leather Therapy Wash, with its convenient sprayer, easily deep cleans even the toughest dirt and grime problems without hardening or darkening leather. Concentrated micro-suds lift out embedded dirt leaving leather clean with a wonderfully soft feel:
imparts beneficial lubricants to help keep leather strong and supple
no need to rinse out—just wipe off
no residual build-up in tooling areas to worry about
Biodegradable and Earth Friendly
It is strongly recommended that Leather Therapy Wash be used in combination with Leather Therapy Restorer and Conditioner (below). This is because Wash cleans the leather on the outside, while Restorer and Conditioner nourishes and lubricates the leather from the inside by replacing the natural lubricating oils leather needs to stay supple and strong, but which are gradually lost with time. If leather is not regularly conditioned and new oils introduced to replace those that are lost, the leather will eventually dry out. The damage this causes goes on out of sight beneath the surface until one day cracks appear. It is important to clean the outside of the leather first with Wash to remove embedded dirt and grime before applying any conditioner—conditioner soaks in deeply and you do not want to drag in the dirt as well.
---
We Also Recommend
---